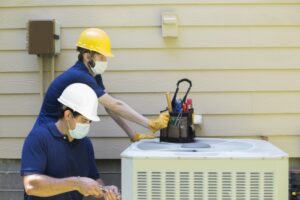 One of the most common questions we get this time of the year from our customers is "is it ever too late to have AC maintenance done?" Or they just avoid the question altogether and assume that it is too late and they should just wait for next year. But, you shouldn't wait!
The only time it's ever "too late" for air conditioning maintenance is if your cooling system is absolutely broken down, beyond repair. Otherwise, it's never too late. In fact, consistency and frequency are actually more important than timing, even though we do technically recommend this service be done in early spring.
Getting your tune-up done before temperatures warm up too much gives your system its best chance to get through the entire summer without problems that could lead to big repair needs or premature breakdown. Unsure if this is really the case? Read on as we uncover some of the benefits of AC maintenance, even this late in the season.
Why You Should Stay On Top of Your AC Maintenance Appointments
AC maintenance is one of those services that every system needs on a routine, annual basis. This is true no matter what type of air conditioner you have. In fact, if you use a heat pump for your cooling needs, then this service is needed twice a year–once for AC maintenance and again for heating maintenance. Why?
Because Summer Doesn't Take a Holiday
If you've lived in Lubbock for even just a year, then you know not only can summers be brutal, but temperatures can surprise us literally at any time. Take this last winter–could you ever have imagined it getting that cold here?!
Don't be surprised by a broken-down air conditioner during a sudden heatwave. Reach out for a tune-up and ensure that your air conditioner is able to work as effectively and efficiently as possible for as long as possible.
Because Skipping Maintenance Can Be Costly
We estimate that every year an air conditioning system goes without a tune-up, it loses approximately 5% of its efficiency. This drop-off can get even steeper as the years go by, until you find yourself paying for an AC system that's running much longer than it should need to in order to do its job.
Because You Want to Avoid Surprise AC Breakdowns
The biggest reason that many homeowners invest in regular AC maintenance is that it helps prevent the system from unexpectedly breaking down during one of the hottest days of the year.
There are plenty of these hot days ahead–don't you want your air conditioner ready to go and ready to get through each one?
Because Maintenance Helps You Avoid Big Repair Needs
Did you know that routine maintenance can help you avoid up to 85% of the repair needs your system may ever need in its lifespan? This is because it helps us spot areas of wear and tear before they grow into huge repair needs.
Contact JD's Prompt Plumbing, Heating & Air Conditioning today for thorough and reliable air conditioning maintenance in Lubbock, TX.