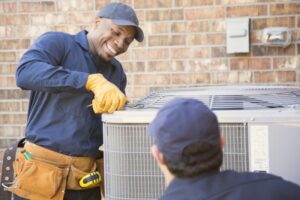 It's that time of the year again! Spring has finally arrived, and as the weather begins to warm up (or at least acts like it will), we recommend you think about getting your air conditioning system checked and tuned up. Or don't just think about it—actually call us to schedule air conditioning maintenance in Lubbock, TX or the surrounding areas. After all, you don't want to wait until the first hot day of the year to discover that your AC isn't working properly. With maintenance, you'll have your air conditioner prepped and in the best condition for any heatwave that may strike in the summer.
We Offer Quality Maintenance Service
JD's Prompt Plumbing, Heating & Air Conditioning will help make sure your AC is ready to keep you cool and comfortable through the Texas summer. We are a team of top HVAC technicians who have extensive training in handling not only air conditioning maintenance, but also repair and installation. We understand how important it is to have a properly functioning AC system, and we're dedicated to ensuring that your AC is in top condition. Our special Comfort Club makes maintenance even easier for you, including special membership benefits like a 15% discount on Repairs.
Need more convincing? No problem! Below are several of the best benefits of having spring air conditioning maintenance from our pros:
Improved Energy Efficiency
Air conditioning systems gradually lose their energy efficiency, dropping around 5% per year, unless they have annual maintenance. Our technicians will clean and inspect your AC unit to ensure it's running at its optimal performance—you won't have to pay more to run your cooling system than you have to.
Increased AC Lifespan
A well-maintained AC system will last longer than a poorly maintained one. Without maintenance, your AC may fail in 8 years or less. With maintenance, you can expect a lifespan of 10 to 15 years. 
Prevent Repairs
During maintenance, our technicians will identify any potential issues and hidden malfunctions in your air conditioner. We can address them before they turn into bigger problems that could result in costly repairs later on. Altogether, maintenance can prevent the majority of repairs an AC may need.
Improved Air Quality
A dirty and poorly maintained AC system will circulate dust, dander, mold spores, and other allergens and pollutants around your house. During maintenance, our technicians will clean your AC system's filters and ducts, which will improve your indoor air quality and make your home a healthier place to live.
Peace of Mind
Knowing that your AC system has gotten a thorough professional tune-up and operational check will give you peace of mind about the summer ahead. No need to worry about the AC breaking down on the hottest day of the year!
Don't wait until the serious heat arrives: reach out to our team today to schedule your AC maintenance appointment. The sooner you act, the easier it will be to get a convenient appointment. With our assistance, you can enjoy a worry-free summer full of cool comfort and fun times.
Arrange for AC maintenance today with JD's Prompt Plumbing, Heating & Air Conditioning. Expert HVAC and Plumbing Services in the Lubbock Area Since 1984.