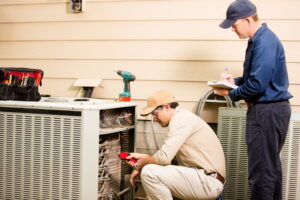 The summer season has come to a close and fall is here. Fall can be a breath of fresh air. It's also the time of year where we want you to sit back and evaluate. What's going on in your home? What's working? What isn't? We really want to help you determine what's going on here.
Has your home really struggled to perform recently? It's a valid question worth asking. If you noticed that you had some air conditioning trouble, then it's time for air conditioning repair in Wolfforth, TX. We can make sure that you're getting quality air conditioning service. Don't wait until next year to handle these issues. Make sure that you put these problems to bed as soon as possible. 
Clanging/Banging
Have you noticed that your air conditioner is either clanging or banging when it operates? This is typically due to a loose part. Don't let this go on for too long. If it does, then it's definitely going to be time for you to have a professional out to your home to fix this for you. 
Hissing/Gurgling
Hissing and gurgling are the two types of noises that you might hear coming from your home's air conditioner. If your air conditioner starts to make a hissing noise, then it's more than likely a refrigerant leak going on in your home. 
Refrigerant is the chemical in your air conditioner that's responsible for your system actually being able to cool. This is a critical component of your home's air conditioner. Without it, it's going to struggle to cool.
The last thing we want you to do is fall into the trap of "refilling" or "topping off" your refrigerant. This isn't a possibility. If you're losing refrigerant, then it's due to a leak in your system.
Screeching/Squealing
Screeching and squealing noises are something that you should always be concerned about. This loud, alarming noise typically indicates an issue with pressure build-up somewhere in your air conditioning system. This is one that we want you to get behind as soon as possible. This is something that you're more than likely to hear right when your air conditioner is turning on. If this is the case for you, our professionals can make sure that this is the source of the problem and then work to solve it. 
Short-Cycling
This sound is a little different than the others. When you hear short cycling, you're probably not going to hear something loud or alarming. What you're going to hear is your air conditioner starting and stopping more often than usual. 
This is one of those sounds that is so benign that you might not even notice it. If you do find yourself being thrown off by the sound of short cycling, then your next step should be to get in touch with our team of professionals. We want to help you get your system back on track so that you're not only getting yourself the best air conditioning service, you're also getting yourself the best efficiency as well.
For professional and reliable air conditioning repair in Wolfforth, TX, contact JD's Prompt Plumbing, Heating & Air Conditioning today!