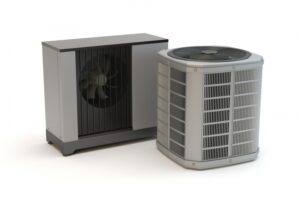 Heat pumps are amazing. Not only do they function as fantastic air conditioners, they also heat your home in the winter. And in our climate, they can do that more efficiently than any other heating system. This is because, instead of generating heat, they simply transfer it from one place to another. Even when it's quite chilly outside, they can bring warmth in, because the outdoor air doesn't need to be warmer than the indoor air, it only needs to be warmer than the refrigerant.
But there have been major advancements in the technology that air conditioners use in recent years. And that same technology is used by heat pumps. If you have an older heat pump, it won't have these impressive new features. Here's what you would gain by upgrading to a new heat pump.
SEER2 Ratings
SEER stands for Seasonal Energy Efficiency Ratio, and it measures how efficiently an air conditioner works by comparing the heat it can move to the amount of energy used to do that. SEER2 is the new way of measuring, which uses the same ratio but tests equipment under different conditions that better replicate what the equipment will face in real-life operation. And heat pumps are now available that have very high SEER2 ratings, which means that using one of these new models will significantly cut your energy usage—and your electric bill.
New Technologies
Manufacturers are always improving their products. There are three changes in AC technology in recent years that have made the biggest impact on energy usage and effective operation.
The Coils: This is the system of tubing that the refrigerant runs through. New heat pumps and AC units are using different materials for these coils which are better at thermal conduction. This means they change temperature more easily, allowing the refrigerant to absorb heat more quickly and efficiently from your home and release it more quickly and efficiently outside your home, or vice versa when your heat pump is in heating mode.
The Motor: The blower fan motor is one of the biggest consumers of energy in your heat pump. It used to be the standard for the motor to function in a binary way: either on or off. New motors are able to run at variable speeds, adjusting for the needs of your home, so that they only draw full power when it's absolutely necessary to do so.
The Compressor: This is the most expensive and most essential component of a heat pump or air conditioner. Again, the standard used to be a compressor that is either on or off. New, high-efficiency units are using multi-stage compressors. Like the fan motor, this means that they adjust automatically, and run on a lower-power setting the majority of the time.
If you're concerned that your AC system or heat pump is aging and you'll need AC installation in Levelland, TX sometime soon, consider upgrading now. With a new heat pump, you'll achieve higher levels of comfort with lower energy bills, and you'll also have the peace of mind of knowing that your new system will be in good working order for many years to come.

JD's Prompt Plumbing, Heating & Air Conditioning serves the Lubbock area. Contact us for all your heat pump needs.