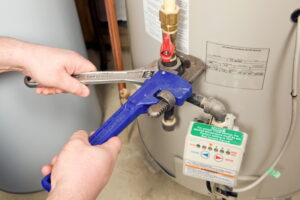 If you're reading this blog post, it means that you know that gas line work shouldn't be left to the average homeowner! This is good news. Gas line work requires training and experience that should not be left to a DIY job, for safety more than anything.
But you might be wondering what kind of professional you do need to call. You might be surprised to find that it's a plumber! Plumbers are specially trained to deal with gas line work. Much of the work that is done is very similar to laying water pipes, and therefore this is the best type of contractor to call. Read on to learn more about why!
"Why Do I Need a Plumber for Gas Line Work?"
There are many things in common with the piping for a plumbing system and the piping that transfers natural gas. For instance, both types of are made form similar material–copper, plastic, and galvanized steel.
Most gas lines are actually made from copper due to its resistance to corrosion,and how lightweight the material it is. Plumbers use plastic pipes in some cases, especially when it comes to flexible piping used in small areas that need narrow gas lines.
A properly trained plumber, like the members of our team, will know that it's essential to ensure that your gas piping gets the attention it deserves to keep it safe and functional.
It's important to be aware that in most jurisdictions, it's actually illegal for anyone to work on a gas-powered appliance or gas line unless they are specifically licensed to do so. Not only are professional plumbers the only people with the skills for this kind of work, but they're also the only type of professionals allowed to do this kind of work.
It's important to be aware that gas lines can present a tremendous health hazard if not installed, repaired, or maintained correctly, and that's why you need a pro on your side.
If You Want to Expand Your Natural Gas Use…
Our plumbers do many repair jobs, both for your water lines and your gas lines. But we are also here for reliable and safe gas line installation! If your business or your home can benefit from expanding how much it uses natural gas, our plumbers are here to help.
Maybe you're interested in a larger, more powerful water heater for your household, or perhaps you're changing from an electric heater to a gas-powered heater. Whatever the case, our team is here to help.
Using natural gas is a great, energy-efficient way to bring reliable and powerful heating into your home. Natural gas is also great because it allows you to have a whole-house generator installed, which will come in handy if you ever have a power outage that a small portable generator just can't help you with.
When you're ready to schedule services with a gas line plumber, contact JD's Prompt Plumbing, Heating & Air Conditioning!