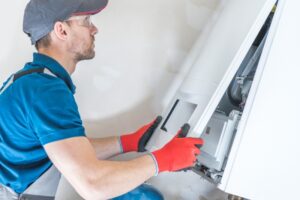 Heaters work hard to keep you warm and cozy. However, they're one of those things we sometimes take for granted and always expect to have with the flip of a switch. It's not until it doesn't work properly that some people think to have it checked out.
With the coldest months approaching, it's best to service your heater to ensure everything is running smoothly. Annual maintenance is recommended for all heating systems. Here are some of the key benefits:
Safety
Safety is always the most important consideration of all. If you have a gas furnace, it's especially important to have it thoroughly checked for potential fire hazards, such as loose gas lines or a cracked heater exchange. Carbon monoxide leaks can be deadly, so it's incredibly important for a professional to check all the things you simply can't see yourself. 
Avoid Unexpected Costs
All homeowners know repairs are part of the territory. However, it doesn't make the expenses any easier. One thing that can ease the burden is having the ability to plan when you can make necessary repairs. Unexpected repair costs always seem to happen at the most inconvenient times.
Having a trusted professional maintain your system helps avoid those unpleasant surprises and can even prevent the need for a major repair in the future. Servicing your heater is much cheaper than the average repair costs for HVAC systems. Once you know the overall condition of your system, you can plan accordingly.
Prevent Service Interruptions
When it's finally cold enough to need your heater daily, you won't want to find yourself scurrying to schedule repairs because the system gave out. No heat on a cold night is certainly unpleasant.
Annual maintenance is like a check-up for your heater to ensure everything is working and in case it isn't, you can address the concerns before they become a bigger problem. Keeping up with your heater tune-ups can actually prevent up to 85 percent of the repairs your system may ever need! 
Extend the Lifespan
Maintaining your heater can extend the lifespan of the system, which is the ultimate goal. The most costly repair is replacing the entire system, something you'll want to avoid having to do on a whim. A heater that isn't properly cared for will wear down faster than one that's been adequately maintained by a professional.
Improved Efficiency
Mechanical issues with your heater require it to work in overdrive. According to the Environmental Protection Agency, a heating and cooling unit that isn't functioning properly can reduce energy by as much as 30 percent. Problems like extra friction on the motors or burners struggling to produce heat will require more power to run. More power equates to higher costs on your electric bill. Maintenance helps the heater retain up to 95% of its energy efficiency. Your heater's efficiency will increase as your heating costs decrease. Who doesn't want to save money each month?
Having a professional maintain your system is simple and affordable. It's most costly to NOT service your system when you consider the potential risks.
JD's Prompt Plumbing, Heating & Air Conditioning is your trusted resource for maintenance and heating repair in Lubbock, TX.