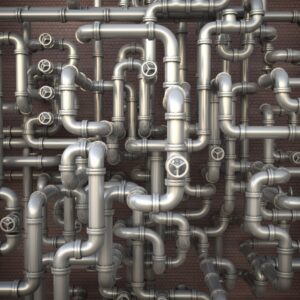 Do you have any idea what's going on in your plumbing? Maybe you're new at homeownership, or you're considering purchasing a home. Maybe your home is older, with pipes whose materials you aren't certain of, or there have been changes or additions to the plumbing system. Maybe you've got some suspicions that there are problems going on in there somewhere. If you don't have clarity about exactly what's going on in your plumbing or where, how do you begin? Video pipe inspection can give you the answers you need.
How Video Pipe Inspection Works
The most common type of video pipe inspection is done to check from the drains all the way down to the sewer line that carries all the drainage away from your home. This is sometimes called a sewer scope. Picture the narrow line with a tiny camera on the end that you've seen inserted under a door or through a light fixture in a spy movie. Video pipe inspection uses this exact technique, though perhaps it's not quite as exciting to watch a live video feed of the interior of your drains as it is to spy on bad guys in a movie. It can be extremely helpful, though, in detecting problems and pinpointing their exact location. Other plumbing in your home can also be checked out with video pipe inspection.
When to Consider Video Pipe Inspection
If you're hoping to purchase a home, the routine inspection will not include the interiors of the plumbing and drains. It is an excellent idea to hire an independent plumbing service in Lubbock, TX to ensure that you aren't unknowingly purchasing a home with major drain or sewer issues. If significant problems are found, they can be weighed in the negotiations regarding the price of the home, or you may prefer not to make an offer on that house.
If your home is older and you don't have any records of plumbing materials used, you may be concerned about lead or other less-than-ideal materials still lurking in your home. (Did you know that sewer pipes used to be commonly made of clay?) Video pipe inspection can identify anything problematic so you and your plumber can make a plan to replace those parts of your system with modern materials.
If you have any reason to suspect that there's a problem, without clear information about the exact location of it, video pipe inspection will be able to pinpoint it. Warning signs of a sewer pipe problem include frequently-clogging drains, multiple drains clogged in the house at the same time, unpleasant smells wafting up from the drains, or an area outside your home where there are puddles, odors, or very green grass. (Leaking sewage can act like fertilizer, but it is not safe for your family or pets.) Warning signs of a leaking pipe include damp places, mildew problems, unusually high water bills, odd behavior from your water heater (in the case of a leak in a hot water pipe), or cracks in your basement floor or slab foundation. If you notice any of these indicators that a problem exists with your plumbing, get professional help right away.

JD's Prompt Plumbing, Heating & Air Conditioning serves the Lubbock area. Contact us for all your plumbing needs.