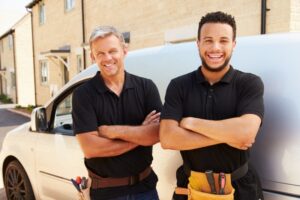 It can be easy to ignore your air conditioner as long as it's working well. But if you're not sure that it's working as well as it should, don't just cross your fingers, hope for the best, and let it keep running while it struggles! If you're not sure whether there's a problem with your AC unit, you're not alone. Here's what to look for, so you can get prompt AC repair when you need it.
Noises
Of course, your air conditioner will always make noise. But the sounds you hear should be steady and consistent: the whirring fan and humming compressor. Anything else is cause for concern. Bangs, rattles, buzzes, clicks, hisses and more should be investigated by a professional technician.
Warm Air
If the vents are emitting air that's just not properly cool, something is seriously wrong. It might be damaged or disconnected ductwork, an overheating component, or even a refrigerant leak making it so the air doesn't get cooled enough. When you get AC repair in Wolfforth, TX, your technician will be able to diagnose the problem and get it fixed.
Low Airflow
If the air coming from your vents is nice and chilly, but there just isn't much of it coming out, it won't circulate properly and you won't be able to get your home cool. Maybe there's a problem with the fan, or with the motor that powers it. Maybe a kink in your ductwork is preventing air from flowing through. Whatever the problem, repairs are in order.
Short Cycling
Many things can cause short cycling—when the cooling cycle starts up, stops, and starts again rapidly—but the bigger concern is that if you don't get it repaired promptly, it's terrible for your compressor. This is the most critical and most expensive component, which pressurizes the refrigerant and forces it through the coils, and you definitely need to fix any problems before incurring compressor damage.
Circuit Breaker Tripping
Maybe you just plugged your vacuum cleaner into the same circuit that powers your air conditioner, and it was the combined draw of power that tripped the circuit breaker. But if nothing else was plugged into the circuit, it's a sign that the AC unit is drawing more power than it should have to. Sometimes this has a simple fix, like replacing a capacitor, but again, you don't want to risk damage to the compressor, so don't keep trying to run an air conditioner that trips the circuit breaker.
The Difference Prompt Repair Makes
Any AC problem has the potential to get much worse if it isn't repaired right away. For example, a rattle might be caused by a wobbling fan that could easily be screwed back into place, but if it flies out of position and hits other components, it could require costly repairs. Save yourself from total breakdowns, hassles, and expenses by making sure any AC issue is addressed promptly by a qualified professional.

JD's Prompt Plumbing, Heating & Air Conditioning serves the Lubbock area. Contact us for all your AC needs.