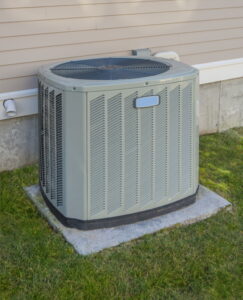 Are you limping along with a less-than-ideal air conditioning system? Have you been thinking, well, I'll survive with it like this for another summer or two? Are you concerned that the benefits of upgrading your air conditioner won't be worth the cost? Here are three reasons why it is absolutely worth it.
A lot has changed with air conditioners over the past ten or fifteen years. If you're still running an older model, you may not even know how much better life could be.
Efficiency
Depending on the age of your air conditioner, it might have a SEER rating (Seasonal Energy Efficiency Ratio) as low as six or eight. The lowest SEER rating you'll be able to get today is a 15! That means a huge decrease in energy usage, and a huge decrease in your electric bill. And there are AC systems with much higher SEER ratings than that. There are a few advances in HVAC technology that are responsible for cutting energy usage: coils made of more-conductive materials which absorb and release heat more quickly and easily, adjustable-speed fan motors that run on energy-saving modes the majority of the time, and variable-power compressors, which also automatically adjust to use as little energy as possible rather than simply being on or off like the compressors of the past.
Performance
This can mean a couple of different things. First, there's the cooling power. This will run down over the years, and an older air conditioner often just won't have the capacity it once did. But there are things that make the new models even better than your old AC was when it was brand-new. Fan-blade shapes have changed. Compressors make less noise. And some air conditioners can even connect with smart thermostats, making it possible to adjust your home AC settings from the office—or from another country—using your phone. This technology can even further improve your energy efficiency, tracking your usage and making recommendations for how to cut your energy use.
Repairs
Most of the repairs an air conditioner will need in its lifetime will be required during the last few years that it is running. If you have an air conditioner that is ten or more years old, you're pretty much guaranteed to need multiple repairs to keep it going for a couple more years. On the other hand, a brand-new AC system is unlikely to need anything other than basic maintenance during at least the first few years that it's running. But that's not the only consideration. If your air conditioner was manufactured before 2010, there's a good likelihood that it uses a refrigerant called R-22. This is no longer in production, having been phased out in favor of less-hazardous refrigerants. If you have a refrigerant leak, this air conditioner will not be repairable.
If you're ready to learn more about all the AC upgrade options available to you when you get air conditioning replacement in Wolfforth, TX, we'd love to hear from you.

JD's Prompt Plumbing, Heating & Air Conditioning serves the Lubbock area. Contact us for all your AC needs.