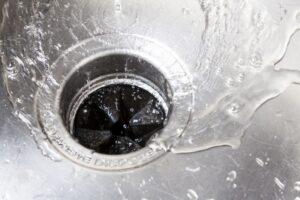 If you're building a new home, remodeling your kitchen, or just trying to take some small steps to improve your home, the question of whether or not to get a kitchen sink garbage disposal might come up. What are the benefits of having a garbage disposal, and are those benefits worth the cost? Here's some information to help you make your decision.
Garbage Disposal Benefits
There are a wide array of reasons you will enjoy having a garbage disposal in your kitchen sink. Here are some of the highlights.
Ease of Cleanup: Taking the time to meticulously scrape out and wipe down plates and bowls, pots and pans, and more can be quite a hassle, especially after gatherings and holidays, or if you have a large family. A garbage disposal streamlines the process by decreasing the amount of trips to the trash can or compost.
Reduced Risk of Clogs: If you don't take the time to meticulously scrape out and wipe down your dishes, food waste goes down your drain. Without a garbage disposal, clogs are extremely easy to cause. The disposal breaks food waste down into tiny pieces that are easily washed down the drainpipe.
Environmental Friendliness: Adding all of your food waste to your trash can—and thus to the landfill—has a negative environmental impact. While composting some waste may be an alternative, not everyone has the option. And even the paper towels used to wipe all the food waste off your dishes before washing have an impact on the environment. Allowing your municipal water treatment plant to handle the waste means it won't end up in the landfill, and depending on how your municipality processes waste, it may end up as food for algae in an environmentally-responsible system.
Cost: The garbage disposal itself is not expensive. There are many models available, but most are $200-$300 and some are less. And with a little care, it will last ten years or more. Compare that cost, perhaps twenty or thirty dollars per year, to the cost of hauling away all of it as trash. The EPA estimates that about a quarter of household trash is food waste, and you definitely pay more than twenty or thirty dollars to haul a quarter of your year's trash away! Composting services, while more environmentally sound, are more expensive and not available in all areas. And don't forget the cost of all those paper towels and trash bags.
Resale Value: Having a garbage disposal will raise the perceived value of your home, should you choose to put it on the market, and may make it easier to sell.
Garbage Disposal Considerations
The most important thing to do when you decide to get a garbage disposal in Levelland, TX is to have it professionally installed. Amateur garbage disposal installation can lead to all sorts of problems, from messy leaks to uncontrolled vibration that causes damage to the disposal itself and even other parts of your kitchen. When your plumber does the installation, they can give you tips on how to keep it running smoothly for as long as possible.
If you're still uncertain and would like to get more details on the specific models available and the benefits of each, we'd love to discuss that with you.

JD's Prompt Plumbing, Heating & Air Conditioning serves the Lubbock area. Contact us for all your AC needs.