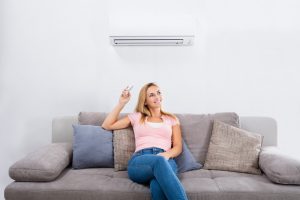 Many folks still don't realize this, but there is a singular alternative to having both an air conditioner and a heater, in one system. It's the heat pump system! And one type of heat pump system is a ductless air conditioner (and heater). These systems are highly efficient at keeping your home nice and cool in the summer, and warm during our brief but chilly winters.
Choosing the right HVAC system for your home may seem like a daunting task. There are, after all, many great options to choose from. We advise speaking with a trained professional before you make a final decision. We'll be able to guide you to the best choice for your specific home.
Not all homes are the best setup for a ductless system, but when we say that we mean it might not be the most efficient option for you and there may be something even better. This is why we really encourage our customers or potential customers to talk to our staff to learn more. Read on as we uncover some of the benefits of this system!
Ductless Systems Are Versatile
As we mentioned above, a ductless system is a type of heat pump. Heat pumps are set up similarly to central air conditioners, with one main difference. That difference is that through a refrigerant process, they're able to switch directions and not only pull heat from the home in order to cool it, but pull heat from the outdoors in order to warm the home in the wintertime.
The great thing about using a ductless system in heating mode is that it's actually more fuel efficient than a furnace. This is because instead of generating heat, it's transferring heat.
Convenient to Install
Having ductwork installed can be a difficult and expensive project, depending on the layout of your home. While many homes do have the space for ductwork, older homes just weren't designed for this purpose.
Therefore, ductless systems can be a really great choice. It's a less invasive installation, more affordable, and can even be completed faster by our professionals than a standard air conditioner.
Cost-Effective
While ductless systems and other heat pumps system do require biannual maintenance, they are easier and more cost-effective than the traditional air conditioner or furnace.
When you go ductless, you don't have to worry about repairing, maintaining, or replacing two different systems throughout the year.
Energy-Efficient
Ductless systems function on less power than other systems due to their smaller size. Additionally, homeowners have ultimate control of the temperature of the air going into each room. Each air handler has its own thermostat, making it highly efficient and convenient for homes that have occupants with different cooling and heating preferences.
You also don't have to worry about energy loss that you might experience with a ducted system. Did you know that you can actually lose up to 30% of the conditioned air going through your ducts due to a breach or tear? This simply isn't an issue with a ductless air conditioner.
If you're ready for professional air conditioning replacement in Slaton, TX with a ductless system, contact JD's Prompt Plumbing, heating & Air Conditioning.