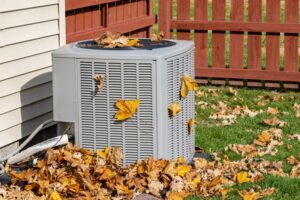 Welcome to autumn! The weather is lovely, fall activities are in full swing, and you're taking steps to prepare your home for winter. (Have you scheduled your heating maintenance? Don't forget about that!)
Fall is also the perfect time for looking back on the summer and considering how well your air conditioner handled the hard work it had to do. Was your AC doing a great job? Or do you have some concerns? If your air conditioner struggled to keep you cool enough this summer, caused very high electric bills, or needs major repairs, it might be time for an upgrade.
Aging Air Conditioners
As long as you get annual maintenance done, an air conditioner will generally keep chugging along for ten years or more, providing adequate cooling, using about the same amount of electricity, and not requiring repairs too frequently. Without maintenance, an air conditioner is likely to age more quickly, and be truly struggling at five to seven years.
Toward the end of this lifespan, maintenance will no longer be able to restore an air conditioner to its original levels of efficiency. Repairs will get more frequent, and the likelihood of a particularly expensive repair becomes much higher. But there's another consideration at this point which you should take into account.
New Innovations in AC Technology
Even when it was brand-new, your existing air conditioner would not have been able to compete with the new models that are on the market. Some major advances in AC manufacturing have made it possible to have higher levels of comfort with significantly decreased energy usage. Here are some of the biggest changes.
The Coils: These are the tubes that carry the refrigerant in and out of your home, so it can soak up indoor heat and carry it away. New materials used for these have higher thermal conductivity. This means they make it easier for heat to be absorbed and released, using less energy to move heat out of your home.
The Motor: The blower fan motor uses a lot of energy. In older models, when the fan was running, it always ran at the same speed. New models have variable-speed motors, which only ramp up to full speed when absolutely necessary, and save a lot of energy by mostly running in power-saving mode.
The Compressor: Similar to these motors, new multi-stage compressors spend most of their time drawing less power, and automatically switch to a full-power mode only when necessary. This is a huge advancement, because the compressor is the most energy-intensive component in the system.
Weighing Your Options
One approach to determining whether your air conditioner should be replaced is the 5000 rule. If repairs are required, multiply the age of your AC unit by the cost of the repair. If your result is over 5000, it's definitely time for a new air conditioner.
But even if major repairs are not required right now, consider whether you've been dealing with frequent smaller repairs, increased energy costs, or decreased comfort. And don't forget that today's air conditioners are better than your old unit was at its best. AC installation in Wolfforth, TX this fall might be your best option, so you don't end up with high electric bills or a total breakdown next summer.

JD's Prompt Plumbing, Heating & Air Conditioning serves the Lubbock area. Contact us for all your air conditioning needs.