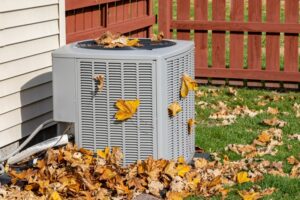 It's that time of year again! Your air conditioner is going to start working very hard very soon. It's important to do whatever you can to keep it happy, so it won't poop out during a serious heat wave. There are a few things you can do to make life easier for a hard-working Texas air conditioner. Here are our summer maintenance recommendations.
Spring Cleanup
Your condenser unit, the outdoor portion of the air conditioner, has likely sat neglected for many months. It performs a very important part of the duties of an air conditioner. It contains the compressor, which pressurizes the refrigerant and keeps it moving, and a motor and fan which blow air over the condenser coils, the tubes the refrigerant flows through. This is how the heat absorbed from your home is released. Good airflow is essential here, and sometimes that can be obstructed. A good spring cleanup will make a big difference.
Trim any shrubs or tree branches that are reaching toward the unit. Cut any tall grass or weeds that are creeping too close. Rake away any leaf litter or other debris that is acting like insulation. And finally, with a gentle garden hose—not a high-pressure setting—wash off any dust and dirt caked on the coils. Do this again anytime you notice a mess or obstructions on the condenser.
Filter Changes
At the start of the cooling season, and every month during the high-use summer, change out your AC unit's air filter. Wash and dry a reusable filter or replace a disposable one. This makes a big difference in airflow through the system as well as efficiency, effectiveness, and even indoor air quality.
Professional Maintenance
Once a year, it's critical to get professional AC maintenance in Lubbock, TX. Your technician will take many steps including cleaning, inspecting, testing, and lubricating various components. This has a wide array of benefits.
Decreased Repair Needs: Up to 85% of likely repairs can be avoided with maintenance, because tiny issues can be caught before they become big problems, and wear and tear can be reduced with cleaning and lubrication.
Increased Efficiency: A year of operation reduces AC efficiency by about 5% because of dust buildup and lack of lubrication. Maintenance can bring your efficiency right back up, preventing you from paying extra to cool your home.
Lengthened Lifespan: Lack of maintenance can cut AC life expectancy in half! All that wear and tear adds up, putting strain on the whole system, and especially the compressor, which your air conditioner can't live without.
Keeping It Under Warranty: While an air conditioner is under warranty, you can pay much less for replacement parts, and sometimes even labor or whole system replacement, but most warranty agreements require that the unit have annual professional maintenance.
Taking these springtime AC maintenance recommendations will save you time, money, and frustration, and help ensure that your air conditioner is ready for the work of keeping you and your family cool throughout a long, hot Texas summer.
JD's Prompt Plumbing, Heating & Air Conditioning serves the Lubbock area. Contact us to schedule AC maintenance.