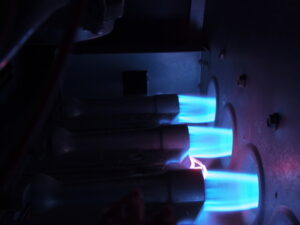 Good news, it's not too late to schedule it now!
If you ask the average HVAC professional, they'll tell you that the best time to schedule heating maintenance is in the fall, or the very early winter. Why? Because that's right before you'll actually need your heating system the most and it will go through the most work. Checking it early could be the difference between a great heating system and an emergency breakdown.
We agree, fall is the best time to schedule your heating maintenance. So, does that mean since you skipped it this year, and winter's almost over, you can just wait until next fall? Not quite—read on as we uncover why it's never too late for heating maintenance.
Heating Maintenance Improves Safety
Are you utilizing a gas-powered furnace or boiler for your heat? If so then it always pays off to have it inspected, no matter the time of year. This isn't because gas heaters are inherently dangerous. But if they aren't properly cared for, they can become dangerous.
Corrosion, age, and natural wear and tear can lead to cracked heat exchangers and subsequent gas leaks. The worst of these leaks could lead to carbon monoxide poisoning. We want to help you avoid this at all costs!
Tune-Ups Give You a Peace of Mind
When it's really chilly outside, and you're sitting inside enjoying the warmth of your home—thanks to your heater—the last thing you need is to worry about is whether or not that heater will completely break down and leave you in the cold.
Without consistent maintenance (consistent is the keyword, here!) your heater will be at a higher chance of suffering from an irreversible malfunction or breakdown. With these routine tune-ups, you can have the peace of mine that your home will be in good shape all winter long.
Professional Maintenance Saves Money!
This is perhaps the biggest benefit of keeping up on your professional maintenance appointments—saving money! When you skip routine maintenance, your heater's performance and efficiency starts declining due to wear and tear. This means it drains more power than necessary and raises your heating bills.
The more you stay on top of your heating maintenance, the less likely you'll be to have costly repair needs or breakdowns. Spending a little on maintenance now means potentially avoiding spending a LOT on a brand new system. Maintenance is designed to extend the life of your HVAC equipment. So stay consistent with it, and your heater will reward you!
Maintenance is Good for Any Time of the Year
To reiterate, consistency is what's most important when it comes to heating maintenance. Whether you schedule your heating maintenance in the beginning of fall for more convenience or in the middle of winter, having heating maintenance done once a year will only benefit you.
Ask about our Comfort Club! This is our maintenance agreement that affords you a precision tune-up, a professional furnace rejuvenation and cleaning, an annual safety check, and discounts on diagnostic fees and repairs.
For professional HVAC maintenance in Lubbock, TX contact JD's Prompt Plumbing, Heating & Air Conditioning today!