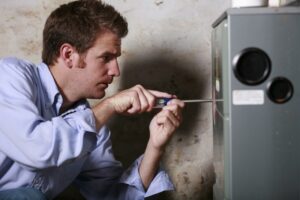 Most winters, we don't use our furnaces for a very long time around here, right? But when we do need them, boy do we need them!
This means they need to work as efficiently and effectively as possible. Also, given how much you use your air conditioner each year and how much that costs, it makes sense that you would like to save as much money as possible on your energy bills during the cooler months.
And maybe you think that the only way to make your furnace use more efficient is to not use it at all. But this is simply not the case, plus it doesn't do much for your home comfort, right?!
Read on as we uncover some simple ways you can boost furnace efficiency without shutting it off altogether.
Schedule Professional Maintenance!
This is a service we recommend that all Lubbock area homeowners have done in the fall for their heating systems. The reason is that doing it in the fall means you can get it taken care of before you need your furnace the most, and you can follow up on any pending repair needs right away.
This, however, doesn't mean it's too late for maintenance now if you haven't had it done yet this season. Maintenance not only allows us to spot any repair needs your system needs, but it helps it perform more efficiently since it will be cleaner and well-adjusted.
Ensure Good Insulation
Did you know that good home insulation is good for more than just keeping your home warm in the winter? Insulation prevents heat transfer. So not only does it help keep heat in during the winter, it keeps heat out in the summertime.
Not only this, but insulation prevents noise transfer too–but that's a whole different type of blog post.
For now, let's focus on what this means for your furnace efficiency. When heat cannot escape your living space as quickly, your furnace won't have to run as long or as often. Therefore, you won't be draining as much power, and you can protect your budget.
Consider a Thermostat Upgrade
There have been a number of changes to thermostats over the past decade. Thermostats serve as the "brain" of your HVAC systems, so it's much more than simply a switch.
Smart or WiFi thermostats can provide detailed reports that will show you precisely how long your furnace is running, and it can help you spot areas of improvement when it comes to efficiency.
Even upgrading from an old manual thermostat to a basic programmable thermostat can make a world of difference in furnace efficiency.
Consider the State of Your Ducts
If your HVAC systems are 10-15 years old, your ductwork can be even older. And throughout the decades, your ductwork goes through a lot. There are temperature fluctuations, extreme heat in areas where your air ducts might be located–like the attic–and even rodents causing damage to the ducts.
Pinhole leaks, tears, and loose joints can lead to conditioned air escaping into unoccupied spaces like behind your drywall and in your attic. As you can imagine, this is inefficient!
For expert service on your heating in Lubbock, TX, look no further than JD's Prompt Plumbing, Heating & Air Conditioning. Contact us today!